Custom thermal imaging lenses
Umicore offers a range of optical and mechanical design services that complement its extensive production and metrology capabilities. We excel at designing and producing cost-effective solutions in germanium and our proprietary chalcogenide glass, GASIR®.
Custom Design Services
Umicore Infrared Optics is a fully vertically integrated supplier of optics, from the raw material to the assembled and measured lenses. As your one-stop shop, we can deliver fully customised solutions to meet your performance criteria. We offer traditional germanium optics, cost-effective designs based on our best-in-class chalcogenide material GASIR®, as well as hybrid designs that take the best of both worlds.
Our dedicated, international team of optical and mechanical designers has extensive experience in optical modelling using Zemax OpticStudio and SolidWorks. Our core competencies are the design of infrared lenses that meet your requirements. We do this by collaborating with you to define your goals for performance and cost, and to determine the limits of the system. After an initial study we work with you to improve the specification and provide an outstanding solution for your application. We can apply our proven technology platforms to solve your design needs, including lightweight and compact; performance over wide temperature ranges; extreme environmental conditions.
As part of our design service, we can supply you with all the optical information needed to further enhance an already crisp image via software. This can include design performance such as illumination graphs, distortion charts, and stray light analysis, and measured performance data such as MTF and focal length. The product we deliver is an optimised lens ready to fit onto your camera.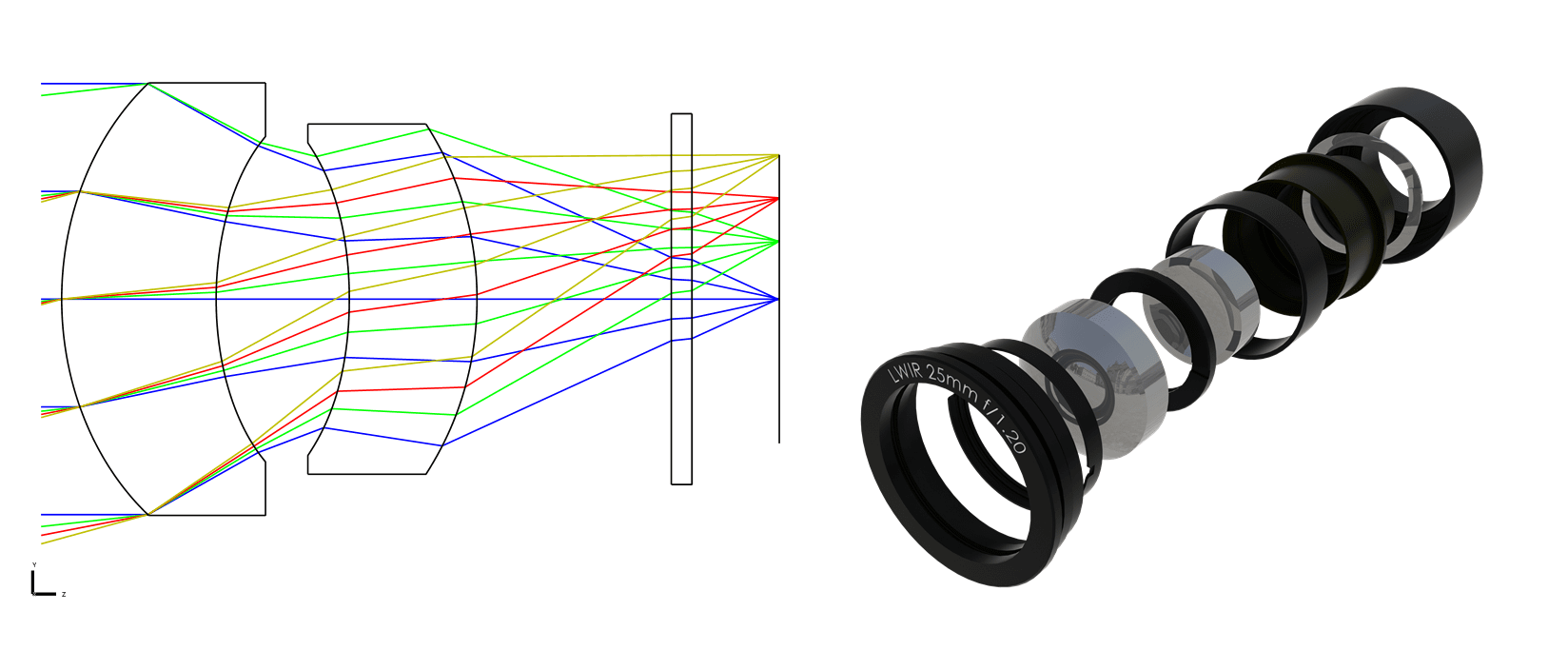 Germanium and GASIR® lenses
Umicore is an expert in CNC polishing, diamond turning, molding, coating and assembly for Germanium and GASIR® infrared optics.
We can help you with your opto-mechanical design and prototyping. In partnership with you we strive for a design which optimizes optical performance and manufacturing cost.
Umicore offers a variety of coatings from High Efficiency Anti-Reflective (HEAR) to Diamond-Like Carbon (DLC on Germanium and iDLC TM on GASIR® ). If your requirement is not covered in our range of standard coatings then we can design and manufacture coatings to your specification.
Measuring capabilities
We have an extensive test and measurement capability for prototyping and production testing.
Talysurf profilometers
Zygo interferometers
Differential Scanning Calorimeters
Standard and FTIR spectrophotometers
Autocollimators
Visual inspection
MTF measurement equipment
Environmental testing
Umicore Electro-Optic Materials adheres to the international standards ISO 9001:2008 for quality management, and ISO 14001:2004 for environmental management.