Umicore was the first to pioneer a DLC performance coating on chalcogenide glass. This is an extremely rugged and abrasion resistant anti-reflection coating, making it ideal for external surface applications where extreme environmental conditions will be encountered. Umicore can successfully apply iDLC coatings to its range of proprietary GASIR® chalcogenide glass.
Below is a table showing the typical specification of Umicore's iDLC coatings.
Contact us to discuss your specific substrate and spectral requirements.
iDLC product ID
UCS_GASIR1_05
Rev 2.0
UCS_GASIR5_05
Rev 8.0
Substrate
GASIR® 1
GASIR® 5
Waveband
8-12µm
8-12µm
Transmission Average
(thru both sides)

≥90% 8µm-12µm
≥85% 8µm-14µm

(when combined with UCS_GASIR1_01)

≥90% 8µm-12µm
≥85% 8µm-14µm

(when combined with UCS_GASIR5_01)

Reflection Average
(per surface)
≤1.5% 8µm-12µm
≤4.0% 8µm-14µm
≤1.5% 8µm-12µm
≤4.0% 8µm-14µm
Angle of Incidence
0°
0°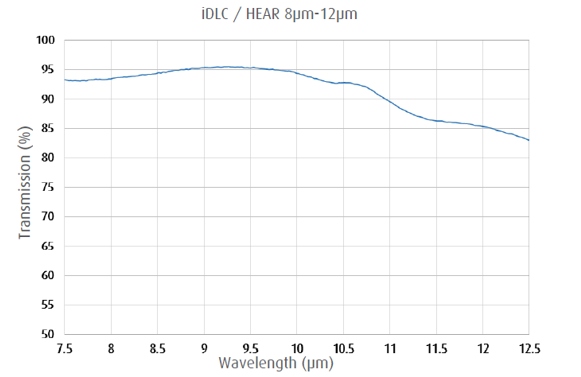 Example spectral scan of iDLC/HEAR 8-12µm coating on GASIR®5
iDLC Coating Environmental Durability Testing:
Adhesion: MIL-C-48497 A (4.5.3.1)
Humidity: MIL-C-48497A (4.5.3.2)
Severe Abrasion: MIL-C-48497A (4.5.5.1)
Salt Spray: MIL-C-675C (4.5.9)
Wiper Test: TS1888 (5.4.3)