High Durability Anti-Reflective (HDAR) Coatings
This durable coating can be used in rugged environments where regular cleaning is necessary. HDAR is used in thermal imaging applications that combines high transmission with durability and meets modular interface surface (MIS) requirements. Umicore can successfully apply HDAR coatings to Germanium and Silicon substrates.
Below is a table showing the typical specification of Umicore's HDAR coatings.
Contact us to discuss your specific substrate and spectral requirements.
HDAR Product ID
UCS_Ge_02
Rev 7.0
UCS_Ge_04
Rev 7.0
UCS_Si_03
Rev 2.0
Substrate
Germanium
Germanium
Silicon
Waveband
8-12µm
3-5µm
3-5µm
Transmission Average
(thru both sides)
≥96% 8µm-12µm (when combined with UCS_Ge_01)
≥97% 3µm-5µm (when combined with UCS_Ge_05)
≥97% 3µm-5µm (when combined with UCS_Si_01)
Reflection Average
(per surface)
≤2.0% 8µm-12µm
≤1.0% 3µm-5µm
≤1.0% 3µm-5µm
Angle of Incidence
0°-20°
0°-20°
0°-20°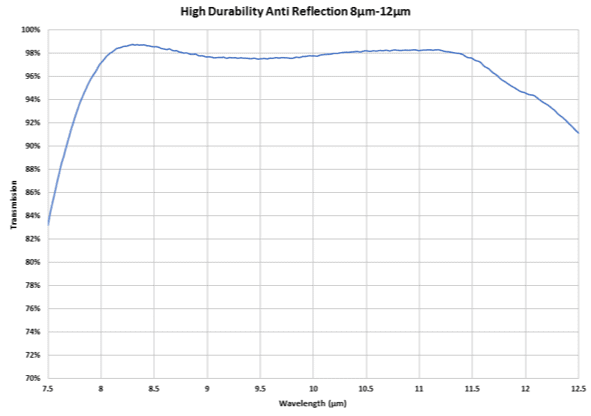 Example spectral scan of HDAR 8-12µm Coating on Germanium
HDAR Coating Environmental Durability Testing:
Adhesion: MIL-C-48497A (4.5.3.1)
Humidity: MIL-C-48497A (4.5.3.2)
Severe Abrasion: MIL-C-48497A (4.5.5.1)