Evaporation Materials and Coating Materials
Evaporation Materials & Coating Materials for Physical Vapor Deposition (PVD)
Umicore manufactures evaporation and coating materials for physical vapor deposition (PVD) and has more than 50 years experience in this field. Our product portfolio covers a wide range of highly effective evaporation materials, coating materials, and accessories including powders, granules, pellets, tablets, rods, cones, evaporation boats, and crucible liners, all of which are available in a wide
range of different purities to suit your companies individual high-tech needs.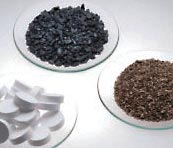 High quality Umicore materials play a major role in the efficiency of the deposition process and ultimately in the quality of the deposited film. Thin Film Products offers evaporation and coating materials for all current coating processes and applications for Optics, Semiconductors, Wear Protection & Decorative Coatings, and Displays.
We work in close partnership with our customers, system manufacturers or R & D departments, to continually develop innovative and high performance evaporation and coating materials. A wide range of metals, alloys, dielectrics and special materials for thin films applications are offered.
Thin Film Products is specialized in the making of well-defined blends tailored to specific refractive index values and color effects. Besides optimized refractive indices, our coating materials guarantee a well-defined transparency range and show chemical and environmental stability.
Antireflective (AR) coatings reduce reflections and ghost images while enhancing the transmission of light. This is especially important when a large number of surfaces are used, as in microscopes, camera lenses or endoscopes. Besides antireflective coatings, a wide range of applications are served in the UV, visible and infrared range, in lighting systems, laser technology, projection systems, and even in medical applications such as mirrors, band-pass filters for information technology, conductive coatings for avionics displays, and more.
A hydrophobic topcoat reduces the effect of fingerprints or other residues and simplifies the cleaning of lenses considerably. Our wide range of products guarantees the best possible coating on all available substrates in this industry. Especially our different mixtures for adhesion layers help to achieve outstanding AR coatings.
Thin Film Products, as an industry leader for optical coating materials, offers unmatched technical support capabilities, either online or on-site.
Evaporation and Coating Materials Quality
Our Evaporation Materials and the quality assurance process at Thin Film Products is ISO 9001:2008, certified to guarantee the highest and most consistent product reliability. Documentation, traceability, statistical process control, detailed test and process specifications as well as sophisticated analytical methods and continuously trained employees are important elements of our quality assurance process.
Evaporation Materials & Coating Materials for Vapor Deposition
Other Evaporation and Coating Materials in accordance with customers' specifications are available on request.
Oxides
Aluminium oxide
Cerium oxide
Chromium oxide
Hafnium oxide
ITO
Lida
Lati S
Magnesium oxide
Niobium oxide
Paso I
Paso II
Paso III
Scandium oxide
Silicon dioxide
Orsit
Lima
Silicon monoxide
Flexo
Tantalum oxide
Rena
Titanium oxides
Dralo
Alvirit
Ida
Tungsten oxide
Yttrium oxide
Zirconium monoxide
Zirconium dioxide
Roma
Zirconium-Titanium oxide
Fluorides
Barium fluoride
Calcium fluoride
Cerium fluoride
Cryolite
Dysprosium fluoride
Lanthanum fluoride
Magnesium fluoride
Neodymium fluoride
Ytterbium fluoride
IR-F900
Yttrium fluoride
IR-F625
Sulphides
Hydrophobic Materials
Color Materials
Brown Color
Grey Color
Yellow Color
Blue Color
Pure Metals/Semiconductors
Aluminium
Chromium
Copper
Germanium
Hafnium
Indium
Molybdenum
Nickel
Niobium
Silicon
Tantalum
Tin
Titanium
Tungsten
Yttrium
Zirconium
Precious Metals
Gold
Gold-Germanium
Palladium
Platinum
Rhodium
Silver
Silver-Copper