Phase Retarder 10.6µm
This coating, when applied onto diamond turned copper will convert linear polarisation into circular polarisation when placed in the beam path at the azimuth angle. Circular polarisation creates equal amounts of 's' and 'p' polarisation. This mirror is usually required when cutting difficult materials and eliminates kerf variations.
It can be used in lasers up to 5kW.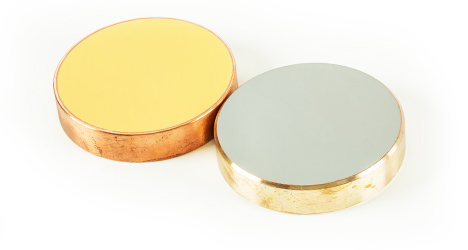 Specifications
>98.5% 10.6µm, <90% 633nm @ 45° AOI
Environmental Properties
MIL-C-48497A, 08/09/1980, para 4.5.3.1
MIL-C-48497A, 08/09/1980, para 4.5.3.2
24Hrs, 49°C, 95-100% relative humidity
MIL-C-48497A, 08/09/1980, para 4.5.3.3
Moderate, 50 strokes with a cheesecloth